Posted on: March 19, 2019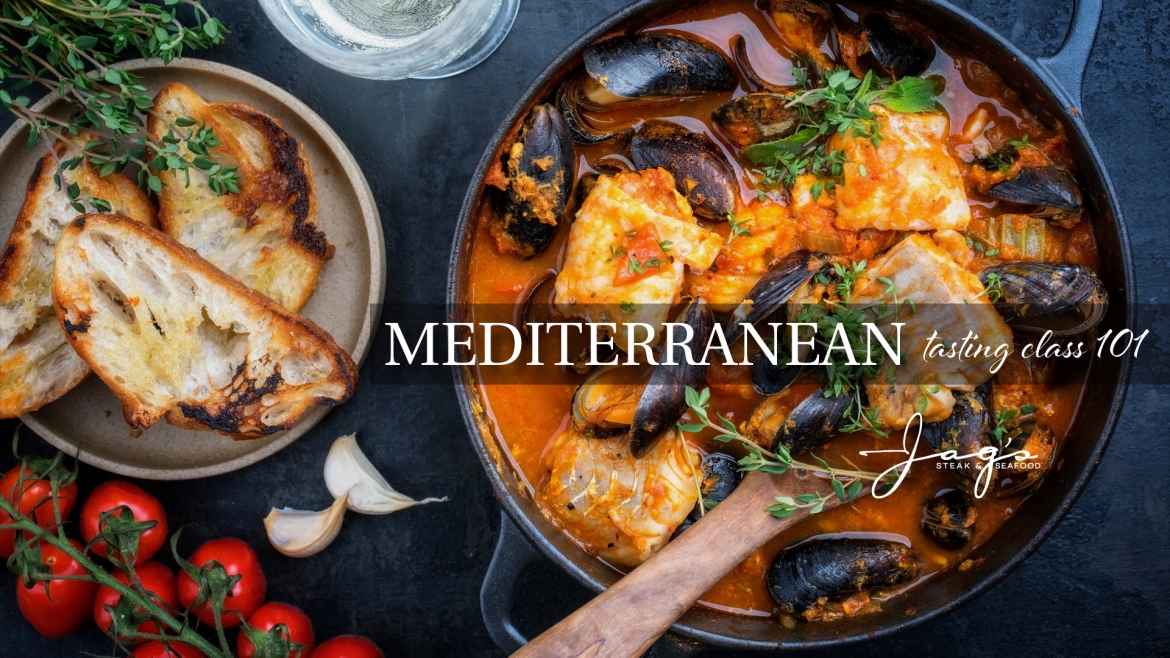 Immerse yourself into one of the world's richest cultures and explore a variety of Mediterranean dishes at Jag's next Tasting Class 101 — Mediterranean. Reserve your seat.
Chef Michelle's team is already preparing each of the carefully crafted dishes and wine pairings that will be featured during the evening's service. The three core elements of Mediterranean cuisine - olive, wheat, and grape - will be on full display with other regional delicacies like lamb, couscous, and mussels.
The Tasting 101 will take place Thursday, March 28, beginning at 6:30 p.m., when you will be served each course from the following menu.
Reception Appetizer

Spanakopita Bites
Falafel with Tahini Sauce
Mediterranean Punch
First Course


Greek Pita Platter
Fresh Pita, Tzatziki, Roasted Olives, Creamy Feta, Marinated Artichokes, Fava Bean Spread and Balsamic Pearl Onions
Ouzo
Second Course


French Salad Niçoise
Mesclun Oil Poached Tuna, Heirloom Tomato, Haricot Vert, 8 Minute Egg, Niçoise Olive and Sherry Dijon Vinaigrette
Beaujolais
Third Course


Spanish Mussels with Chorizo
PEI Mussels, Iberico Chorizo, Roasted Tomato, Seafood Broth, Saffrom and Grilled Baguette
Albarino
Fourth Course


Moroccan Lamb & Couscous
Ras ek Hanout Crusted Lamb Tenderloin, Couscous, Dried Apricot, Preserved Lemon, Harissa Tomato Sauce
Primotivo
Finale


Italian Tiramisu Torte
Espresso Soaked Sponge Cake, Caramel Mascarpone Cream, Dark Chocolate Ganache, Caramelized Almonds
Vin Santo
After reserving your all-inclusive seat, all you need to prepare is your appetite for five-courses paired with a mix of craft cocktails wine and your Mediterranean spirit of sharing to enjoy conversations with the culinary experts who prepared the courses and other diners.