Posted on: September 26, 2018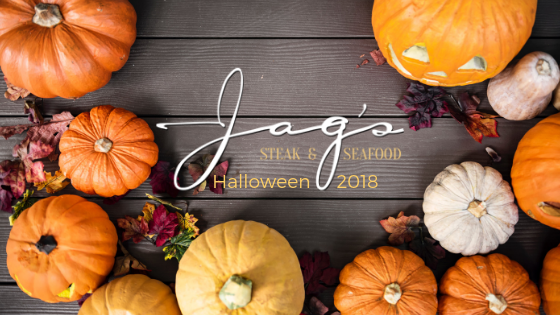 It's the spookiest of celebrations at Jag's this Halloween season! We have some tricks (and treats!) up our sleeve to bring you fun-filled events for all ages in mind:
First, get into the spirit of the season by participating in our Annual Pumpkin Carving Contest. We provide the pumpkin, you do the carving!

Contact us (513.860.5353) by Wednesday, October 17th to reserve your pumpkin. Pumpkins will be available for pickup on Monday, October 22nd. Then, take your pumpkin home and give it a spook-taculuar makeover to get ready for the contest! Kids and adults can both enter, but keep in mind our four judging categories when carving your pumpkin:
Most Original
Scariest
Most Talented
Best Children's
The contest will take place Thursday, October 25th at Jag's. Contest participants need to have their pumpkin set up at the restaurant by 6 p.m., with judging beginning at 6:30 p.m. Winners will be announced at 8:30 p.m. with prizes awarded!
Contest participants and guests will also be able to enjoy a first come, first serve buffet. Buffet is $10 per person, or complimentary for contest participants and one guest.
We can't wait to see your boo-tifully designed pumpkins!

On Saturday, October 27th, stop by Jag's Haunted-Carnival Bar Party, where guests will boo-gie down to dance band My Sister Sarah and sip on witches brew-approved drink specials. Plus, it's not a party without a costume contest! Costumes will be judged in three categories, including:
Best Couple
Most Original
Scariest
First and second place winners in each category will be awarded prizes that you don't want to miss out on! You must be 21+ to attend. Prizes TBA.
Stay up-to-date on upcoming events for the Holiday season on our website, or by liking us on Facebook.