Posted on: January 3, 2020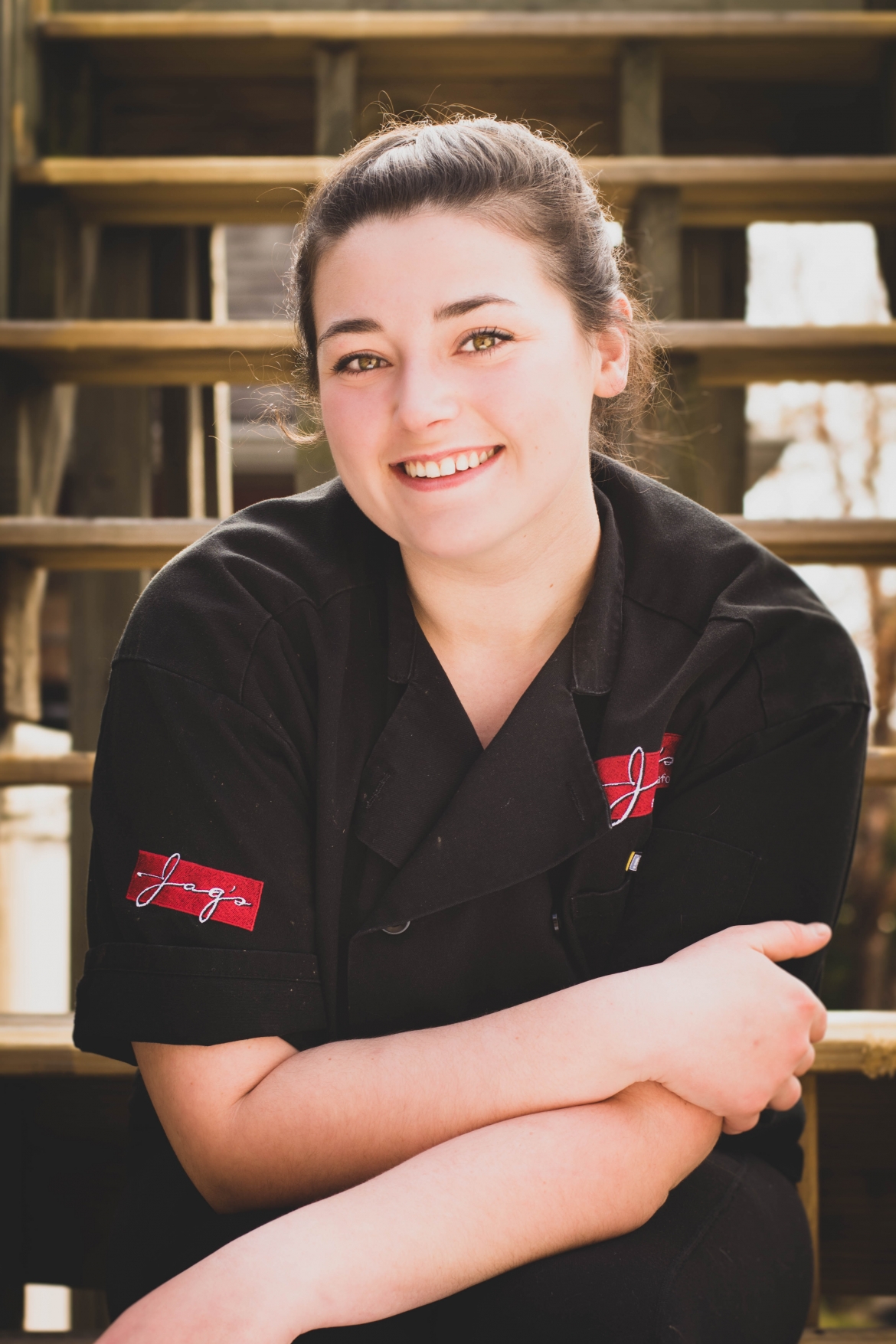 Getting noticed in the restaurant business isn't easy, especially as an aspiring chef. Celia Lowe has done just that in her short time in the Jag's kitchen. In less than two years, Celia has risen to become a Sautée Chef and continues to set high goals for herself.
---
A Family Tradition

Celia's career path began as a child. Growing up in a large family, cooking was an important part of coming together and building long-term relationships. Her mother and both grandmothers loved cooking and passed down to Celia an adrenaline rush for serving others. Inspired by her matriarchs, she took a special interest in family-style country cooking and desserts.
"Growing up around such amazing chefs, I didn't see anything else I wanted to be," says Celia.

In fact, she finds herself mimicking her grandmothers' movements in the kitchen still to this day.
"From the cast-iron pans she used to the way she danced light on her feet about the kitchen, I thought I had to copy her every movement for my food to taste as great as hers when I first started cooking," she says.
"I still say to this day that if stranded on a desert island, the meal I'd bring with me would be my grandma's fried pork chops with gravy and fried potatoes paired with my mom's Buttermilk Pie," which Celia shares combines buttermilk, sugar, nutmeg and lemon juice for an unmistakable "zing."
---
Following her Culinary Passions

After completing high school home ec and FCCLA classes, and facing a career choice, Celia followed in her family's footsteps by enrolling in culinary school, where her love and passion for the culinary arts grew.
"The opportunity to explore the world of cuisine and learn from top chefs piqued my curiosity and appreciation for all styles of cooking," says Celia. "And while I come from German heritage and would love to someday visit Germany to pick the minds of their top chefs, I respect the elements of each region's delicacies so much that it's hard to pick favorite approach."
In January 2018, Celia applied "on a whim" for a line cook position at Jag's and landed the gig. After just a few months, Celia developed a strong appreciation for the relationships she was building at Jag's.
"I've worked at a few restaurants but never felt at home until I was at Jag's, said Celia. "The difference is the people and the family."
~"I've worked at a few restaurants but never felt at home until I was at Jag's." ~


By pairing her training with a strong work ethic, Celia has become one of Jag's rising stars in the kitchen, responsible for much of the kitchen's seafood preparation. Her station also includes many sauces, glazes, appetizers and vegetables. Assisting her fellow chefs and ensuring the presentation of her dish looks spectacular are among her most important roles.
"As the last eyes to see the plate before it's given its final garnish, I make sure every single dish we serve is the highest quality, looks great and is executed perfectly every time."
---
Preparation is Key


According to Celia, one of the most important factors in making a great dish is the preparation that begins well before it is served.
This applies to your kitchen too. Celia recommends practicing mise en place - a French term meaning "everything in place."
"Whenever I go to prep, I make sure all my ingredients are in front of me before starting any actual cooking. Many mistakes in the kitchen happen because of unnecessary multitasking, like simmering meat on the stove and then leaving to cut vegetables. You can complete your entire meal more quickly and effectively by having all ingredients ready in the form you need to use them from the beginning. Then, when something unexpected happens, you're less likely to forget a step or overcook."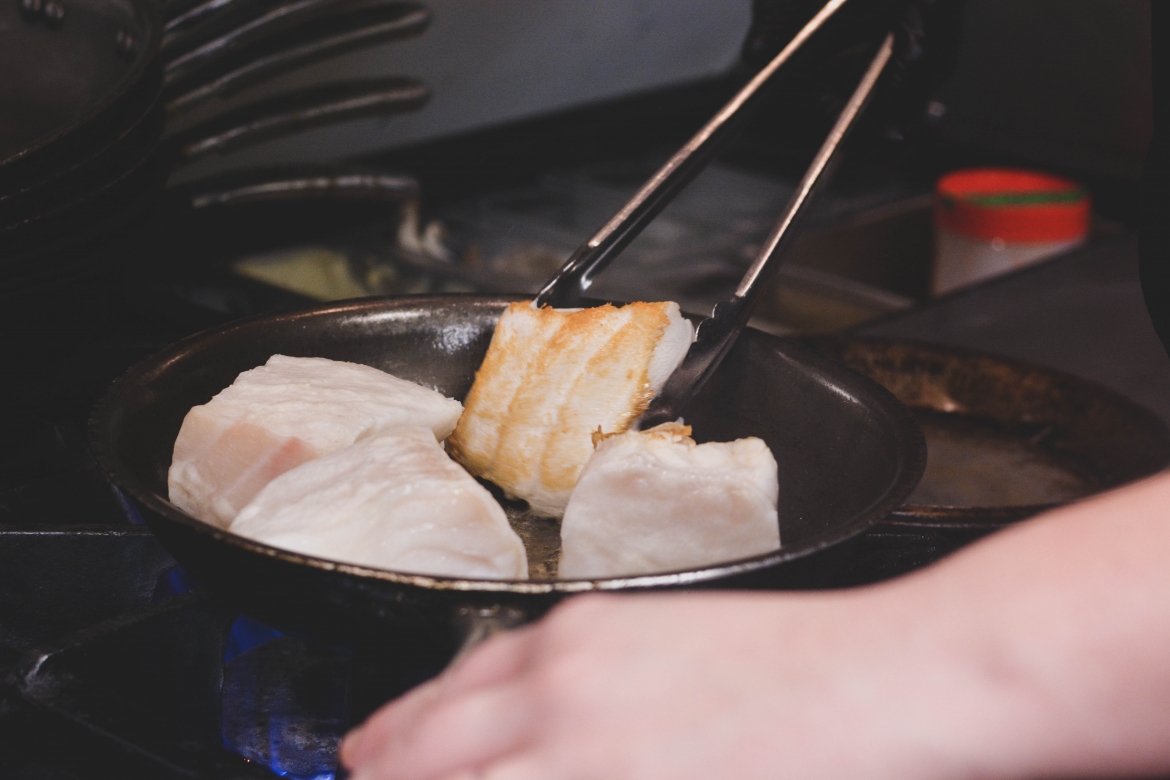 Celia's typical work day starts at 2 p.m. when she tackles her own prep list. This includes double checking her equipment, cutting and pre-searing fish, and creating the evening's beurre blancs, a butter-cream sauce used with most seafood menu items.
Celia says working the fish station has honed her carving and presentation skills -- developing her creative side, which is reflected on the plates offered to Jag's guests.

"Treating seabass is one of the skills I've improved significantly since I've joined Jag's," says Celia. "Starting out, carving the correct portions was pretty challenging, and perfecting the cut is important so we aren't wasting any of the filet. After months of practice, I can now eye out the size and get it right, and if I know the first cut is larger than I need, I know exactly where to make the second cut so both pieces are still usable."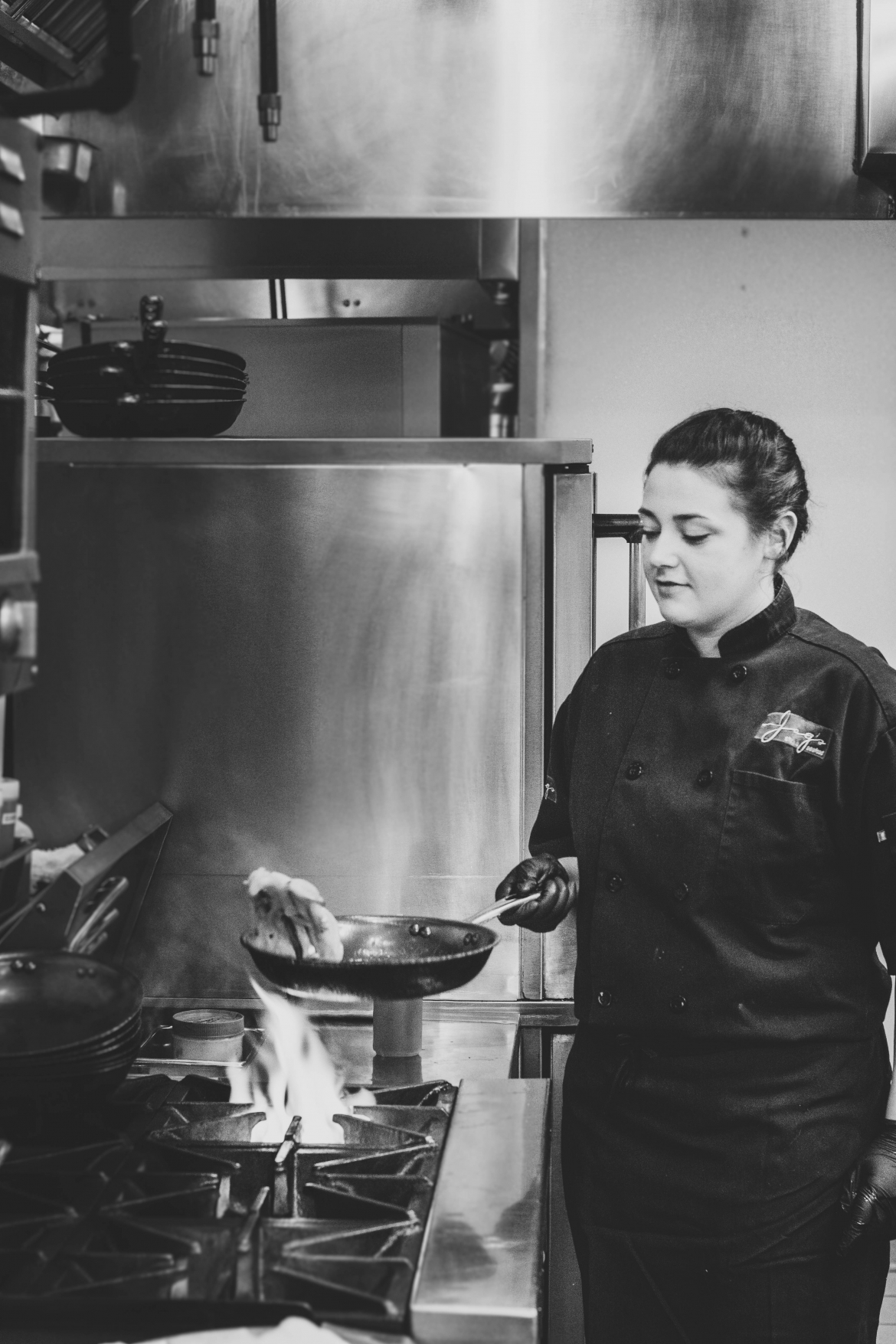 "Now, the seabass is definitely one of my favorite delicacies to work with, because it's so beautiful on the plate and its flavor and quality are incomparable."
Celia believes leadership and teamwork is such a vital part of her role because it is inseparable from the collaborative culture at Jag's, starting with Chef Michelle. She credits her own mentors at Jag's for helping her continue her culinary development, and helping her think of her work in terms of how it can help others continue to progress and develop responsibilities.
"First and foremost, the person who has helped me out the most; leading, guiding and teaching me is Executive Sous Chef Kinsey [St.Clair Love]," says Celia. "She's an inspiration to me in how she worked to earn a leadership role. I wouldn't be where I am today without her grooming and mentoring."
Celia adds, "I feel like anyone willing to completely put themselves to the work can grow within the restaurant and be given opportunities to increase their role."
"It's up to me to take that opportunity."
To meet more members of the Jag's team, click here!