Posted on: January 21, 2020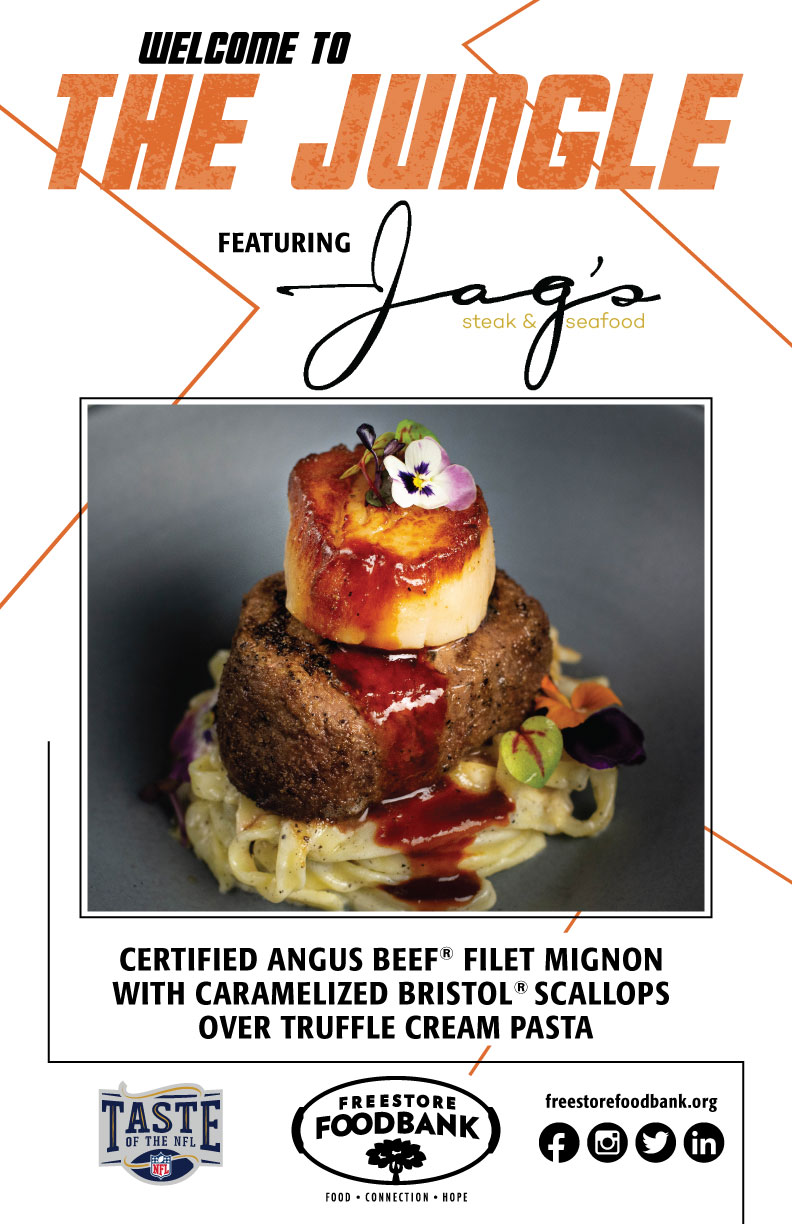 For the second consecutive year, Freestore Foodbank has selected Jag's Steak & Seafood to represent the Cincinnati Bengals and Freestore Foodbank at the 2020 Taste of the NFL held on the eve of Super Bowl LIV in Miami.
"We're deeply honored to once again be selected by our peers at Freestore Foodbank to represent the city of Cincinnati, Freestore Foodbank, and the Bengals once again at Taste of the NFL, and are thrilled to demonstrate our unique culinary style at one of the nation's premier cooking events," says Chef Proprietor Michelle Brown.
Chef Michelle and her staff have been busy preparing for the trip to Miami, and while planning for this year's trip will be a bit more familiar with one Taste of the NFL event under their belt, the team has special plans for this year's Party with a Purpose.
"Last year, we were prepped well by the Freestore Foodbank team on what to expect; however, when you're miles away from home and trying to get everything together, it's a bit daunting," said Chef Michelle. "Still, everything worked out perfectly last year, thanks to the help of the Freestore team as well as all of the coordinators at the Taste of NFL. This year, we feel seasoned and ready for it all!"
---
A Great Event for a Great Cause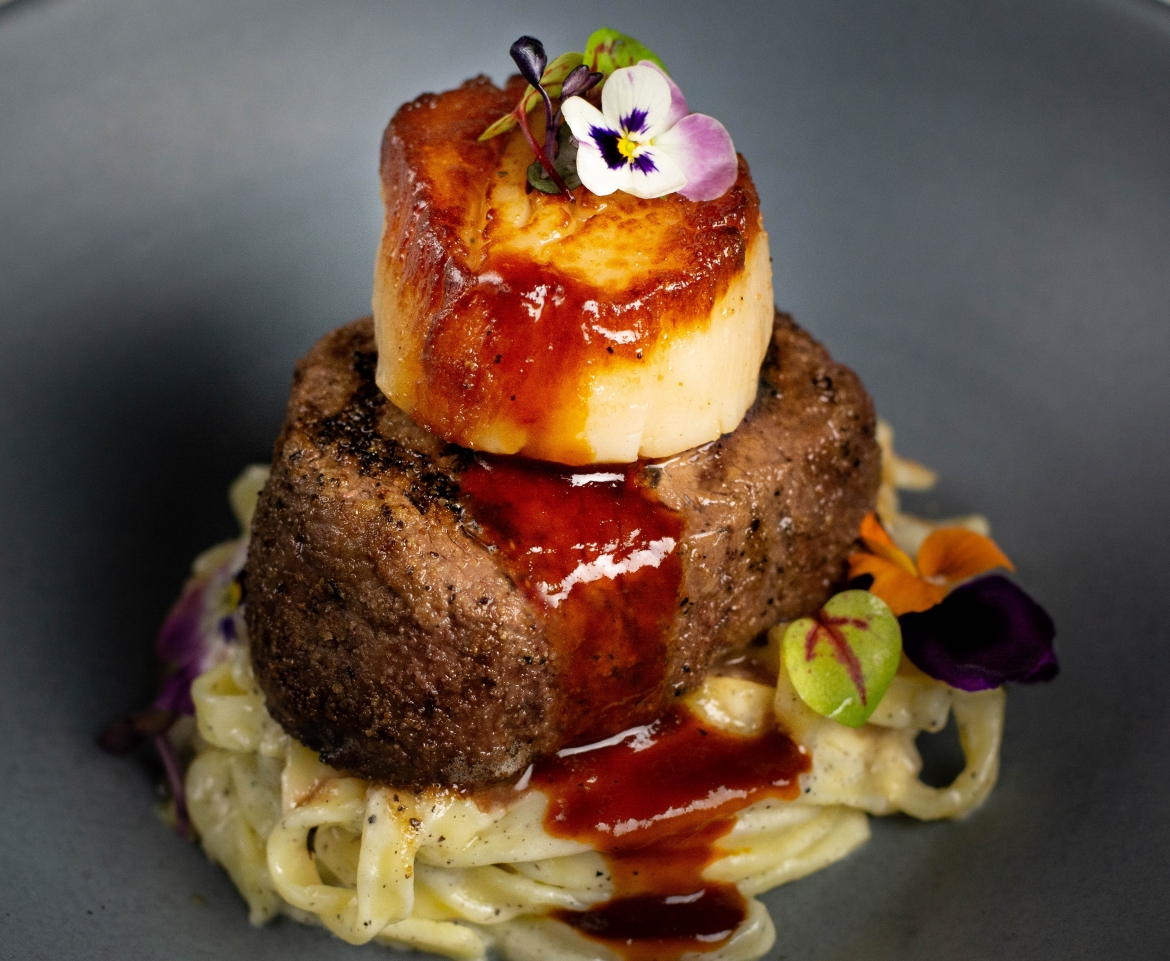 The day of the event is sure to be full of activity for the Jag's team. Setup will begin the afternoon of Friday, January 31st with Chef Michelle and Chef Matt preparing food in the kitchen of the Diplomat Beach Resort in Hollywood, FL. The day of the event will require all available hands, as the attending team decorates the Jag's booth in orange and black while helping Chef Michelle and Chef Matt distribute nearly 1,000 plates of Certified Angus Beef ® Filet Mignon with Caramelized Bristol® Scallops over Truffle Cream Pasta throughout the day for exhibitors.
One it's go time, all NFL chef representatives will take a team photo to commemorate the night. Cincinnati Bengals legend David Fulcher will also be joining the Jag's station, signing autographs and sharing our story with other participants and player-representatives from each NFL city at Taste of the NFL.
"The unity of everyone participating and the way the Taste of NFL national team brings everyone together for a great cause is our favorite part of the event," says Chef Michelle. "We look forward to being a part of the drive to end hunger and can't wait to see what each city will bring to their tables this year."
Giving Back to Our Community


But as much as we enjoy joining the country's best chefs, it's our drive to end hunger in our community that inspires us to support Freestore Foodbank's annual Kick Hunger Challenge.
"Giving back is an important part of what we do at Jag's, and we extend a special thank you to Freestore Foodbank for their work to help feed our community," said Chef Michelle.
Last year, Freestore Foodbank raised $52,393 through its annual Kick Hunger Challenge — sponsored by TriHealth, providing more than 150,000 meals to neighbors in our community. Jag's Steak and Seafood raised $24,593 in support of Freestore Foodbank programs last year alone through the Challenge. This year, Jag's was proud to present Freestore Foodbank with a $9,500 donation following a January Kick Hunger gift card drive.
"Chef Michelle and the staff at Jag's Steak & Seafood have shown an amazing commitment to giving back to the community and supporting Freestore Foodbank through our annual Kick Hunger Challenge," said Trisha Rayner, Chief External Affairs Officer at Freestore Foodbank.
"We are proud to have someone of Chef Michelle's talents representing our region at this year's Party with a Purpose the evening before the Super Bowl in Miami, and can't wait to see what her team comes up with this year."
Each year, net proceeds from the Taste of the NFL's programs and events are donated to designated Feeding America affiliated food banks in each of the 32 NFL team cities, as well as other select hunger relief organizations.
To join us on our journey to Miami, follow Jag's on Facebook, Twitter and Instagram and follow #JagsSteakInMiami to see the latest updates!
---

About Jag's Steak & Seafood - Jag's Steak & Seafood and Piano Bar is known for the best steak, seafood and raw bar in the region, as well as a destination for a complete evening of entertainment with a variety of live music in the Piano Bar six nights a week.
About Taste of the NFL - Taste of the NFL is held on the eve of Super Bowl in the host city each year. More than 32 restaurant stations — one from each NFL city — provide food and wine pairings for guests to sample in a strolling food and wine event.
About Freestore Foodbank - Freestore Foodbank is one of the 200 food bank members of Feeding America, the nation's largest domestic hunger-relief organization. Freestore Foodbank's mission is to improve lives by eliminating hunger in partnership with our community, and our vision is to create a hunger-free, healthy, and thriving community.
Last year, the Freestore Foodbank provided over 33.8 million meals with 511 community partners, trained over 200 in the COOKS and LIFT the Tristate job training programs, and served 17,000 households in stabilization services in a 20-county service area of Ohio, Kentucky and Indiana.
For more information, please visit www.freestorefoodbank.org.