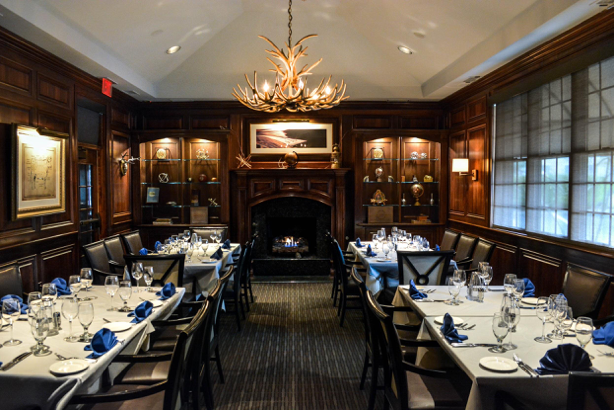 Whether you're meeting employees for a regular business update, trying to impress a potential new client, pitching the next great business idea, or simply planning a celebration with colleagues, you know every detail needs to be perfect. Most importantly, you want your colleagues to feel comfortable and satisfied with the overall experience.
No one understands this better than our team of experienced private dining professionals at Jag's Steak and Seafood. In our years of helping guests prepare for private dining events, we've noticed a few trends that have helped each achieve a successful and memorable corporate meeting.
For business or leisure, our top four tips for hosting a successful business meeting include:
1. Maximize your presentation with visual technology
Don't just tell your clients, show them. Studies show visuals communicate information faster, are retained in the brain longer, and improve understanding of complex information.
Jag's can give you the tools to do the job well. Audio/visual amenities are complimentary with select private dining rooms. Some of the tools at your disposal include:
Plasma TV monitors compatible with HDMI and VGA input
LCD projectors and projection screens

4' x 5' built-in or 6' x 6' screens

Complimentary guest WiFi in all rooms
Other equipment like speakers and microphones can be outsourced at an additional cost from trusted local vendors
We'll also perform tests before you arrive to ensure everything runs as expected. All you need to do is arrive and attach any personal devices into our system.
2. No distractions
We mean it when we say you'll be booking a private dining room. Keep command of your audience and choose from one of eight unique settings. For groups large or small, any of our private dining rooms will provide the quiet environment needed for a productive session. Our servers are discreet and will follow any agendas or schedules provided. You can read more about the capacity of each of our private rooms, and amenities offered at jags.com.
3. A comfortable team is a happy team
Want your team to look forward to meetings? One way is to ensure everyone is well-fed and energized to take care of business. When you hold your next meeting at Jag's, not only will your team and colleagues get a taste of the region's premier fine dining restaurant, they'll be able to choose exactly what they want from our private dining menu.
4. Plan ahead
Nothing's worse than arriving the day of your corporate event unprepared. Booking your next corporate outing at Jag's helps keep things simple. Our experienced event planners work with you throughout the entire planning process to follow up with you on your final guest count, menu selections, and other personalization details. This includes working hand-in-hand with your team to accommodate any food allergies or special dining requests. We can also customize your menu with a greeting, logo and/or photographs.

If you have other special requests, just ask! Our staff can handle most requests with unparalleled poise and sophistication.
Jag's works with you and your company to ensure that every detail is perfect. Let us transform your next event into a stylish, memorable and delicious experience for any group size or occasion. Call 513.860.5353 to learn more.