Posted on: August 23, 2019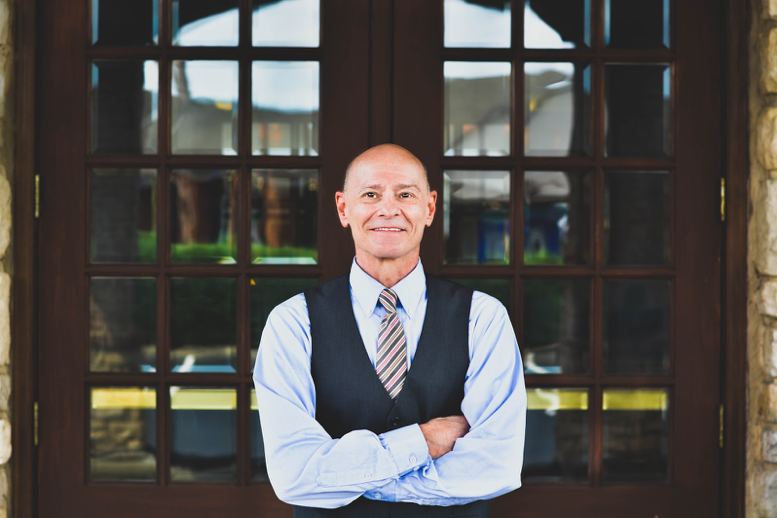 What's the recipe for becoming the most requested server at the region's premier dining location? A passion for food and entertainment, an unrelenting dedication to service, and a dash of experience helps Jeff Goodin wow guests with impeccable style.
Jeff's remarkable story began just a half-mile away at Lakota West High School. As a student there, Jeff joined a high school work program that allowed him to build experience while enrolled in classes at 16 years old. His position - a barback at a popular night club.
"It's not something you'd see today," Jeff jokes.
The work program allowed him to leave school early, and he would often work until 3 a.m. on a school night, then get up and go to classes the next day by 8 a.m.
In spite of the crazy hours, the work cemented his interest in foodservice and entertainment.
"I just love meeting people from all over the world, working with all different ages and types of people. It's me, it's what I love to do."
So when Chef Michelle approached Jeff in early 2003 with an offer to join her among the initial staff at a new restaurant in West Chester, he couldn't refuse, and Chef Michelle couldn't wait to show him the new project.
In fact, Jeff barely had time to eat lunch before his first day. As Jeff explains, he was hired on the spot in a Beckett Ridge office building and hopped in Chef Michelle's car so she could show him the restaurant, which was still under construction.
---
Impeccable Service


Fast forward to 2019, and Jeff is still meeting the expectations of hundreds of guests each night. It's by no means an easy task, yet it's one Jeff has been executing with ease since day one.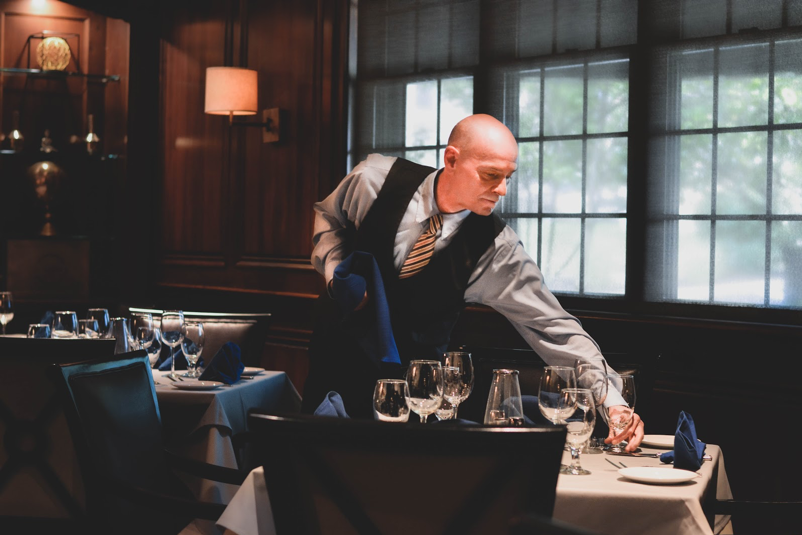 "I put myself in your shoes. If you sit down for dinner and order something, my job is to know what you need and don't need without you asking for it," says Jeff.
That includes everything from anticipating which condiments are needed on the table, to reading faces and providing expert recommendations and helpful directions.
To make sure he and the rest of the Jag's team are prepared for the evening's service, Jeff arrives an hour early every day Tuesday-Saturday.
That preparation helps him, and the rest of the team execute a flawless service. "When the guests start rolling in, it's my job to make them feel comfortable," Jeff says. "It's all about reading the guests. I want them to have fun and enjoy the full Jag's experience"
Jeff has built a reputation of doing just that and has become one of the most requested servers at Jag's. He considers himself fortunate to be recognized by so many regulars at the restaurant. Over the years, Jeff has developed lifelong friendships both professionally and socially. Many consider him part of their family as he is invited to celebrate their milestones.
If you've had the privilege to meet Jeff, it's easy to see what makes him a great server. He is always thinking about others' needs and giving credit to others, even when he deserves it himself. Above all, he truly cares about the role he plays in each guest's dining experience.
Jeff can't imagine being in any other industry and loves his position at Jag's - even after 16 and a half years.
"Almost everybody at Jag's has been here for over 10 years, which is a testament to the way Chef Michelle runs this restaurant. It's amazing to see how a restaurant really works. All positions are important. Everyone is focused." says Jeff, "We're very much a family."