Posted on: February 25, 2020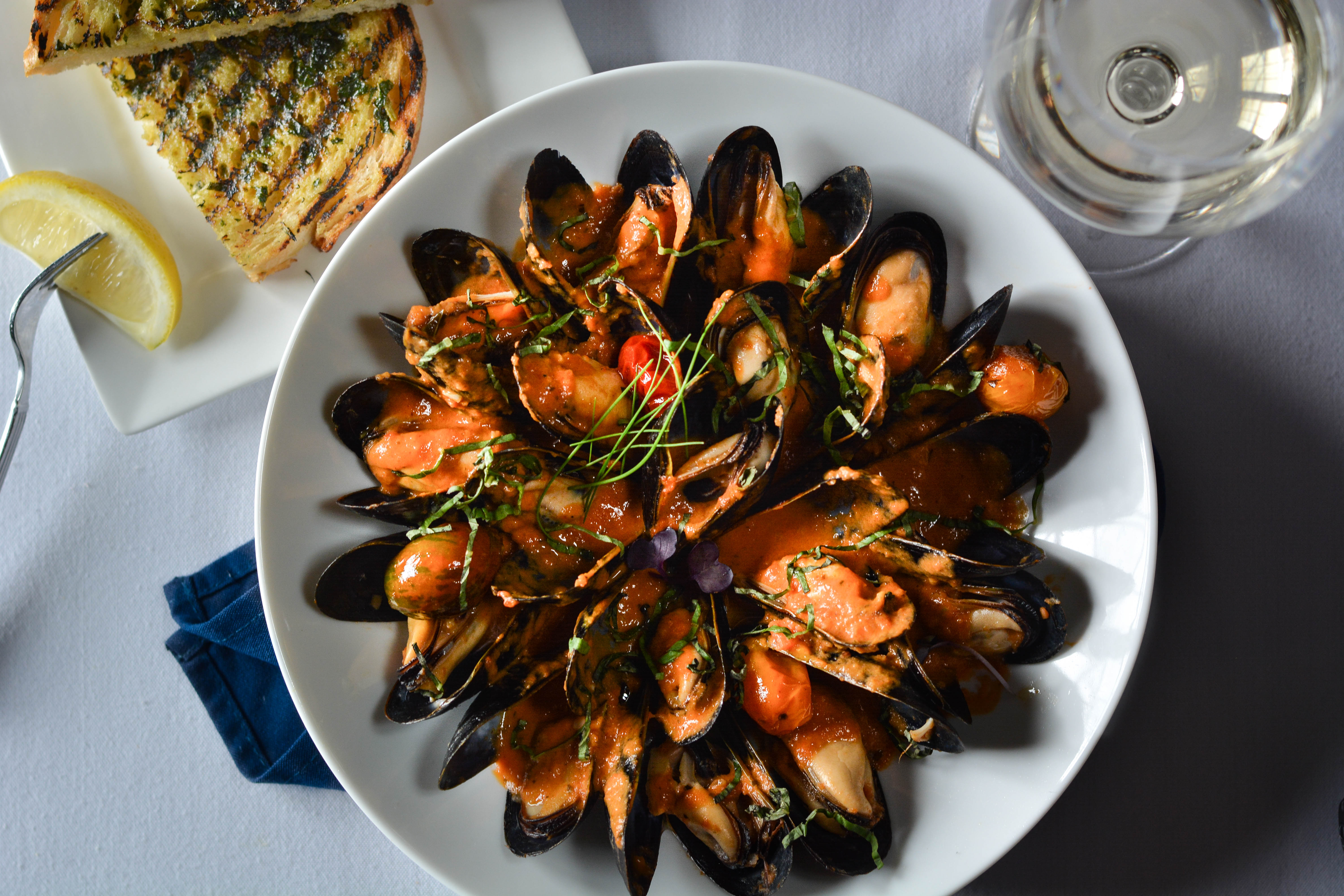 As we enter the Lenten season, some of our guests may be looking for seafood and other meat-free options for the next few Friday's. Why not choose a place known for the best seafood in the region?
Jag's Steak and Seafood offers a plethora of seafood options to cater to our guests' needs - and they're all available on our regular dinner menu! Reserve your table now to see why Jag's has the most to offer southwest Ohio diners looking to fill their seafood cravings, this spring and all year round.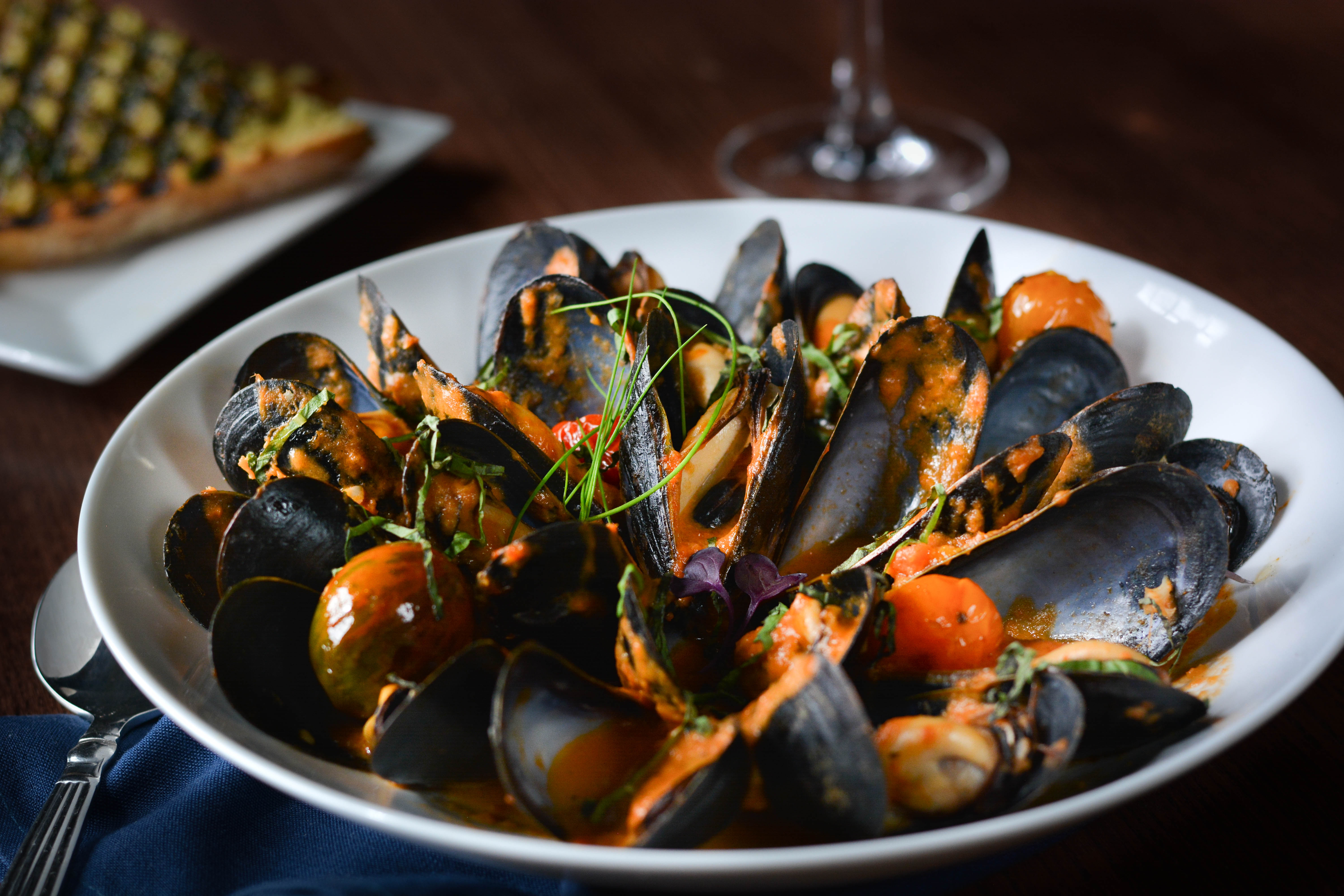 Appetizers


CREAMY SPINACH&ARTICHOKE DIP WITH CROSTINIS & YUCCA CHIPS

TEMPURA SHRIMP, KING CRAB, AVOCADO, CREAM CHEESE, SPICY AIOLI

PRINCE EDWARD ISLAND MUSSELS, HEIRLOOM TOMATOES, MARINARA, WHITE WINE, GARLIC, BASIL, GRILLED PESTO BREAD

LUMP CRAB CAKE OVER CREAMED CORN WITH AVOCADO SALAD, FRIED TOMATO CILANTRO CRÈME FRAÎCHE & PICKLED CHERRY PEPPERS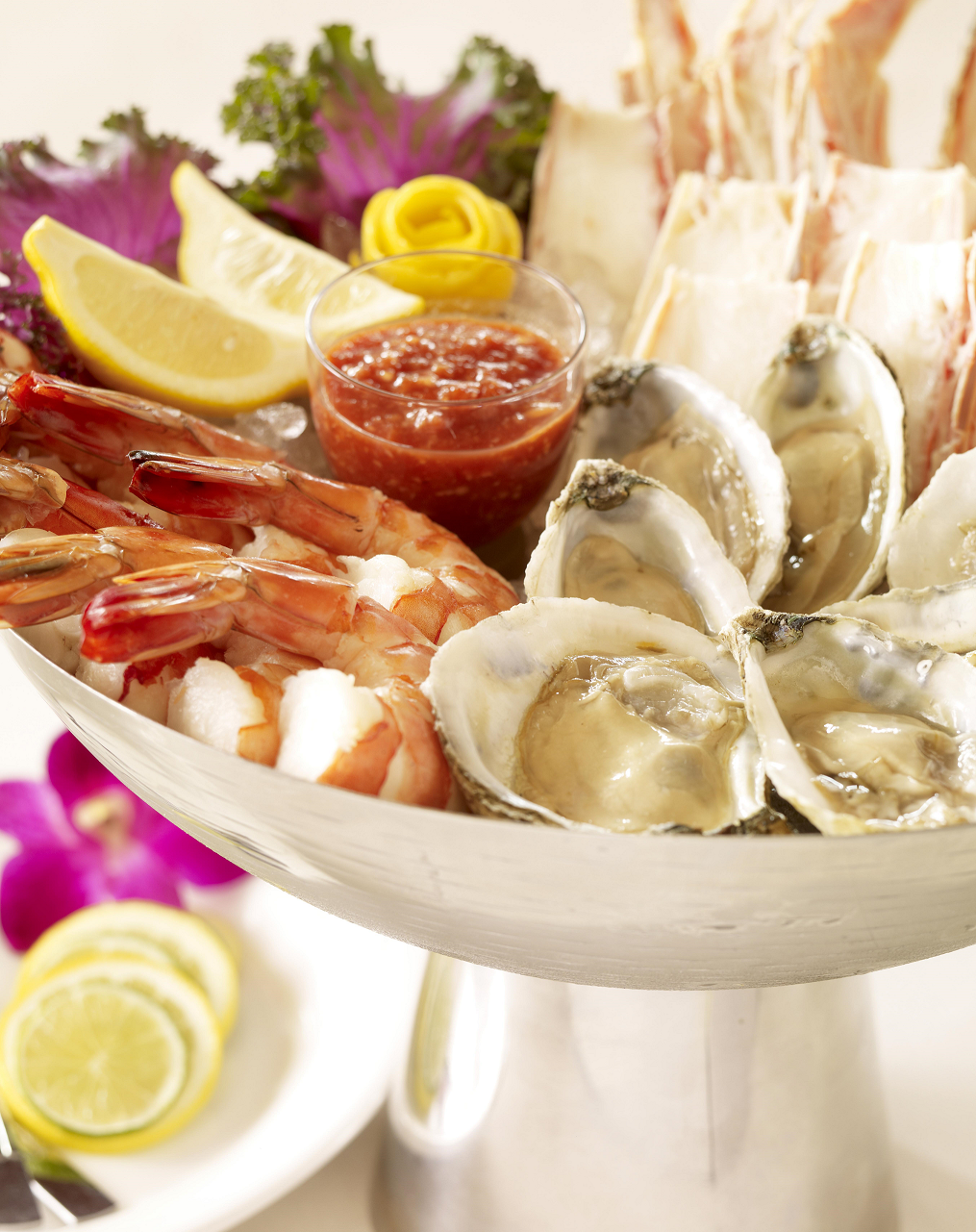 Raw Bar


FOUR SWEET & TENDER TIGER SHRIMP IMMERSED IN FIERY COCKTAIL SAUCE

THREE JUMBO SHRIMPS SERVED WITH TRADITIONAL COCKTAIL SAUCE

HALF DOZEN EAST COAST OYSTERS SERVED WITH FRESH HORSERADISH & COCKTAIL SAUCE

FOUR COLOSSAL SHRIMP, FOUR OYSTERS ON THE HALF SHELL & QUARTER POUND KING CRAB LEGS WITH ACCOMPANIMENTS

EIGHT COLOSSAL SHRIMP, SIX OYSTERS ON THE HALF SHELL AND HALF POUND KING CRAB LEGS WITH ACCOMPANIMENTS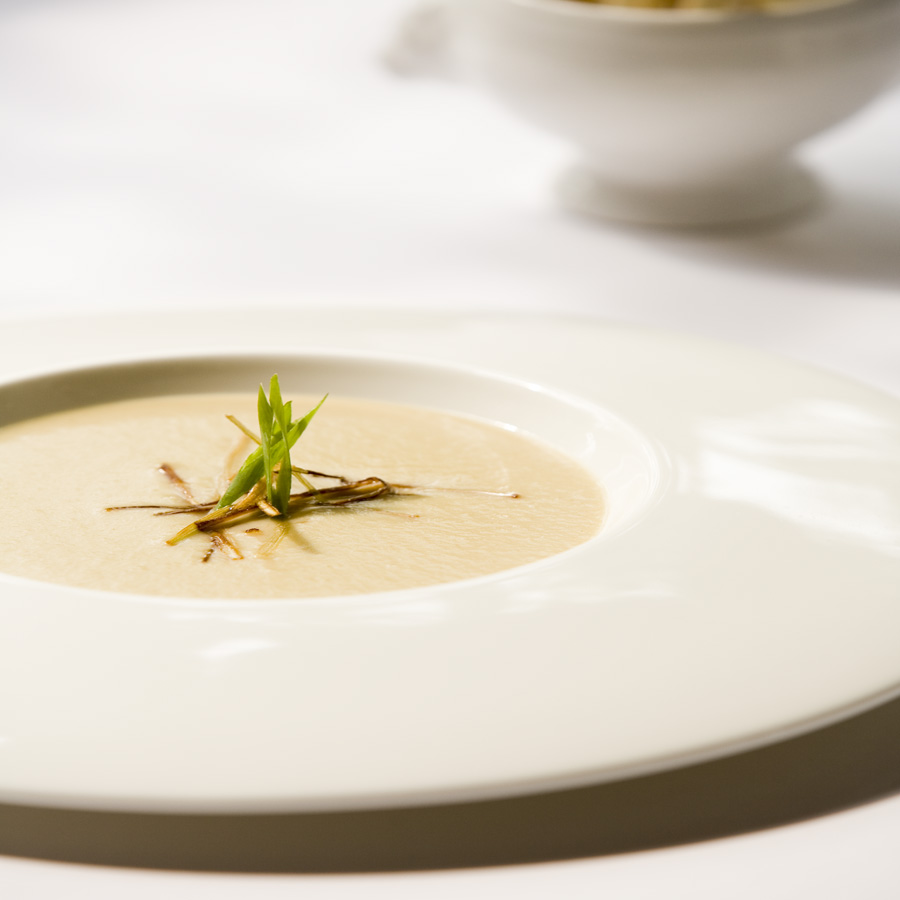 Soups & Salads


INTENSE CRAB STOCK WITH FRESH CREAM, LUMP CRAB CONFETTI & SHERRY CRÈME FRAÎCHE

WILD MUSHROOMS BLENDED WITH VEGETABLE STOCK & CREAM. TOPPED WITH TRUFFLE CRÈME FRAÎCHE

CARAMELIZED MAUI ONIONS STEWED IN RICH BEEF BROTH WITH GRUYÈRE CHEESE CROSTINI

GOURMET GREENS TOSSED WITH FRESH BERRIES, BOURSIN CHEESE, CANDIED WALNUTS, HARICOT VERTS, CRAISINS, TOMATOES, RED WINE VINAIGRETTE

CRISP ROMAINE LETTUCE, CRUMBLED FETA CHEESE, RED ONION, AVOCADO, CRISPY PARMESAN,TOMATO, CAESAR DRESSING 7 TRADITIONAL JULIUS CAESAR

ICEBERG WEDGE TOPPED WITH DANISH BLUE CHEESE, BLUE CHEESE DRESSING, CANDIED PANCETTA, PECANS, HEIRLOOM BABY TOMATOES AND FRESH BERRIES

BABY KALE, BROCCOLI, ARUGULA, BRUSSELS SPROUTS, HARICOT VERTS, CUCUMBER, RED ONION, HEIRLOOM TOMATOES, TOASTED ALMONDS, FETA CHEESE, CITRUS VINAIGRETTE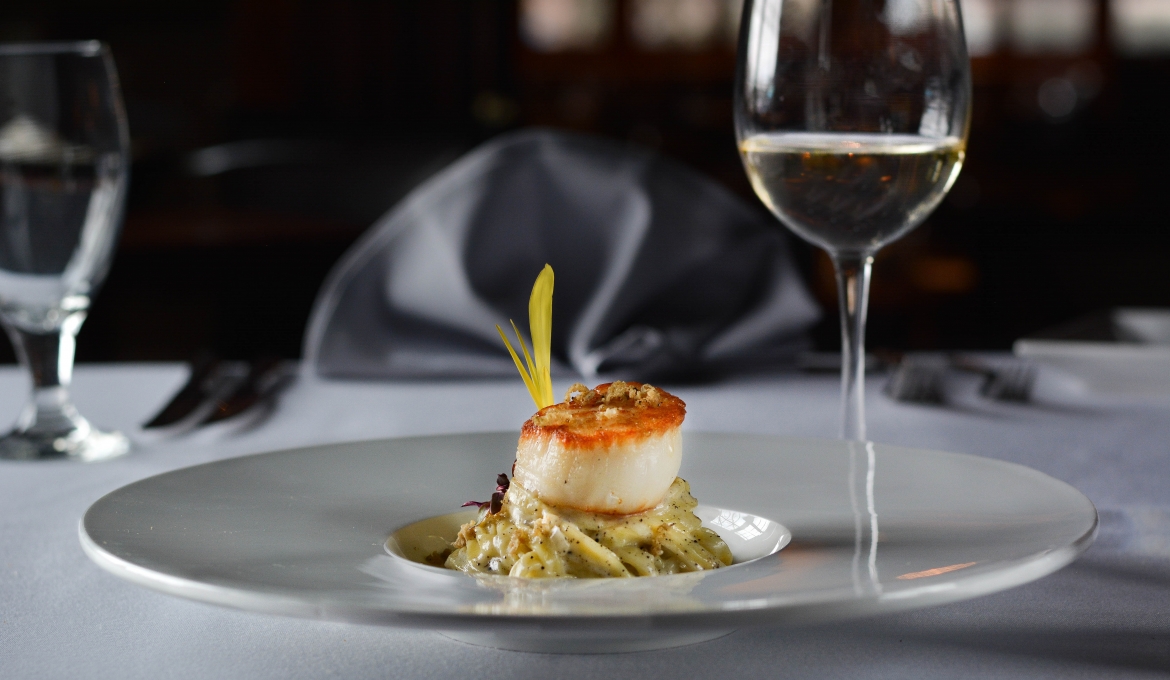 Entrées
SEARED CHILEAN SEABASS FILET TOPPED WITH THAI-CHILI BEURRE BLANC. ACCOMPANIED WITH GARLIC MASHED POTATOES AND STEAMED ASPARAGUS

HAZELNUT ENCRUSTED ALASKAN HALIBUT FILET TOPPED WITH WHITE CHOCOLATE BEURRE BLANC. ACCOMPANIED WITH SWEET MASHED POTATOES & STEAMED HARICOT VERTS

BOURBON GLAZED KING SALMON OVER COCONUT LIME BEURRE BLANC WITH MANGO SALSA. ACCOMPANIED WITH JASMINE RICE AND STEAMED HARICOT VERTS

TWO SUCCULENT COLD-WATER LOBSTER TAILS SERVED WITH SWEET MASHED POTATOES AND SAUTÉED SPINACH. TOPPED WITH HOLLANDAISE SAUCE

MOREL ENCRUSTED SCALLOPS OVER SHALLOT-MADEIRA REDUCTION. SERVED WITH WILD MUSHROOM RISOTTO AND STEAMED ASPARAGUS
Then, end your meal with any regular selection from our dessert menu, and don't forget about our Fish Fry Fridays, every Friday thru Easter Sunder from 5-7 p.m. for guests 21+ in our bar. Chef Michelle's culinary team will be creating new fish-fry-inspired buffets from around the world each week, so don't miss out!