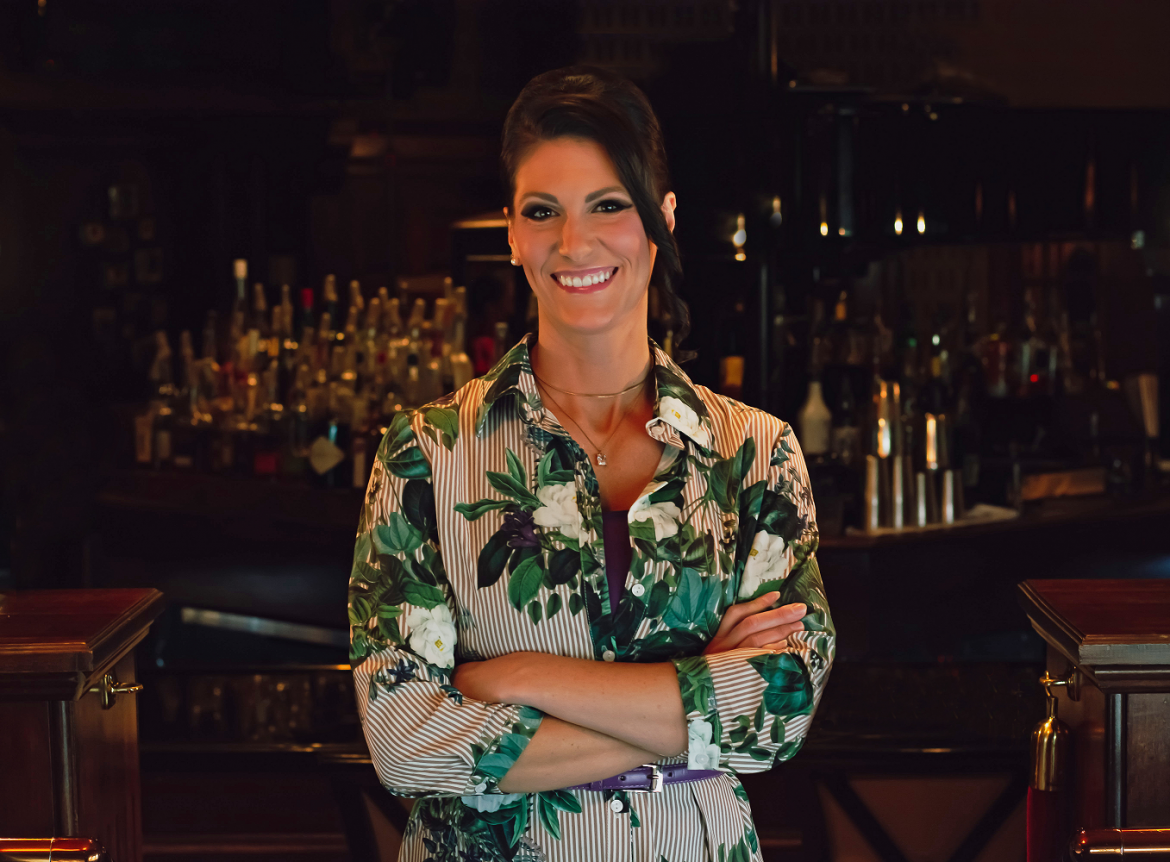 Think about the last time you dined at Jag's.
Perhaps you met Andy, our "tall and noteworthy" valet. You were likely greeted by a friendly host and may have taken a server's advice on a perfect wine-entrée pairing.
These interactions represent just a few roles in a network of dozens of team members giving their best effort to execute your perfectly cooked steak, accommodate your special requests and ensure each guest feels like part of the family.
So what's the secret for keeping all these parts moving in the same direction night in and night out? Enter Monica Zestermann, Jag's newest Restaurant Manager.
Monica's imprint on nightly operations is hardly new for our team members though. Monica, a West Chester native and Lakota West graduate, joined Jag's in 2007 after friends in the industry encouraged her to apply for an open position as a cocktail server.
Monica's strong work ethic and adaptability allowed her to take on new responsibilities and pursue other career and education interests while part of the Jag's family over the course of her 15 year - and counting - career at Jag's.
Balancing a typical Friday night bar service - it turns out - was a breeze compared to becoming a new mother while finishing her bachelor's degree and learning the ropes of her new position.
"Being adaptable and calm in guest-facing roles is a crucial skill, says Monica. "The secret is to hustle when no one's looking."
Not long after accepting a position in the bar, Monica moved to a dining room service position and began training all new bar employees on Jag's culture and best practices in service. She proved uniquely capable of identifying the strengths of those around her and bringing out the best performance in each of them.
This ability caught the eye of leaders in the restaurant and community. Monica earned the Mise En Place scholarship in 2017, which she used towards the completion of a master's degree in organizational psychology. Mise En Place was established by Chef Michelle and the Community Foundation of West Chester/Liberty to reward a Jag's employee with exceptional work ethic, professionalism and a desire to further their education.
From that foundation, and with completion of her master's degree in 2018, Monica produces training programs for all Jag's team members. In these programs, she recognizes that an individual approach to training has benefits for the entire restaurant.
"Organizational psychology is all about understanding what motivates people and identifying their strengths so the entire team buys into our mission," says Monica. "Every person has their unique motivations, and that's why we manage from an individual standpoint, investing in continuous education, development and growth opportunities that keep employees engaged and working towards individual goals that also work toward our overall goals."
More recently, Monica stepped into a shift leader role and played a critical part in developing a new Curbside service for guests during the early months of the COVID-pandemic.
Her typical work day starts around 1 p.m., where she arrives at the restaurant to make sure all team members have the tools they need to do their jobs in the most effective way possible. Monica also scours guest requests daily to ensure each have been accommodated, whether they be dietary requests, notes to recognize special occasions, or personalized requests that help to make a guest's visit unforgettable.
To help achieve buy-in from staff and elevate the service provided to our guests, Monica has also instituted 3-minute training sessions every Saturday to review topics in-depth. These trainings typically provide a setting to share feedback and reinforce the quality of the Jag's experience.
"Our Saturday trainings arm our staff and servers with the information they need to answer guest questions, relay menu insights and inform about why Jag's product is the best that can be found in the region," said Monica.
These short huddles make a major difference in the overall guest experience. "Being an independently owned restaurant, we are able to take feedback and quickly adapt to our guest's needs in a way that other restaurants can't," Monica shared. "This allows us to build strong relationships with guests in ways that few others can."
Ultimately, Monica credits the restaurant's culture as a large part of its success, and her own. "I feel like I grew up there," she said. "I spent a large portion of my young adult life with Jag's, and it truly feels like my home away from home. It's easy to take pride in your workplace when you are continuously inspired by the people you are surrounded by and work with."
Those moments of inspiration from her teammates have come both inside and outside of work hours. Setting an example for a healthy lifestyle is important to Monica. As such, she's passed down her passion for healthy habits to the rest our staff. Pre-COVID, Monica coordinated staff participation in a Hunger Run benefitting Freestore Foodbank with the help of other fitness buffs among the staff who she said, "inspire me daily." Monica hopes to resume similar activities that contribute to the staff's wellbeing and family dynamic in the near future.